This summer, Lapham's Quarterly is marking the season with readings on the subject or set during its reign. Check in every Friday until Labor Day to read the latest.
In the summer of 1002 the twenty-six-year-old Japanese prince Tametaka Shinno died, perhaps due to the plague circulating in Heian-kyo, now known as Kyoto. At the time of his death he was involved in a romantic relationship with Izumi Shikibu, a poet and the daughter of a provincial governor. Izumi's real name is unknown; Shikibu refers to her father's ministerial post, and her surname comes from the province governed by the man she married in 999. She separated from her first husband shortly before her affair with Tametaka began. The spring following Tametaka's death, Izumi started a romance with his younger brother, Prince Atsumichi. The early days of this liaison are recounted in Izumi's memoir, the Izumi Shikibu nikki.
Izumi was unusual among Heian memoirists for narrating events in the third person and fictionalizing scenes she had not directly witnessed. She writes that Atsumichi first contacted her during the Deutzia month of 1003, the fourth month of the Japanese lunar calendar and May in the Gregorian calendar. Summer lasted from Deutzia through the sixth month of the lunar year, ending around the first week of August. In the poetry of the Heian period, the advent of summer is often marked by the blooming of citrus flowers on the tachibana tree and the singing of the cuckoo. These signs of the new season appear in Atsumichi and Izumi's early correspondence. Atsumichi sends Izumi the branch of a tachibana tree as a token of her love for his brother. Izumi responds that she would rather revisit the memory of Tametaka through the "cuckoo's voice," a reference to the younger prince. Decoding the notes of lovers was a required step in aristocratic courtship. "The first intimation of a new romance for a woman of the court was the arrival at her door of a messenger bearing a five-line poem in an unfamiliar hand," the poet Jane Hirshfield writes in an introduction to Izumi's work. "If the woman found the poem sufficiently intriguing," her reply "would set in motion a clandestine, late-night visit from her suitor."
Heian princes routinely had multiple wives and consorts, but Atsumichi was expected to choose his romantic partners from a small group of highborn families. Izumi was not a member of this class and lacked the social influence of the prince's other consorts. Criticism from courtiers fills the final pages of her memoir, which ends with the departure of Atsumichi's principal wife after Izumi had moved into the prince's residence. She writes that although the court was "very gay and a contrast to the solitary life of her old home," she knew "even the lowest servants were speaking evil of her."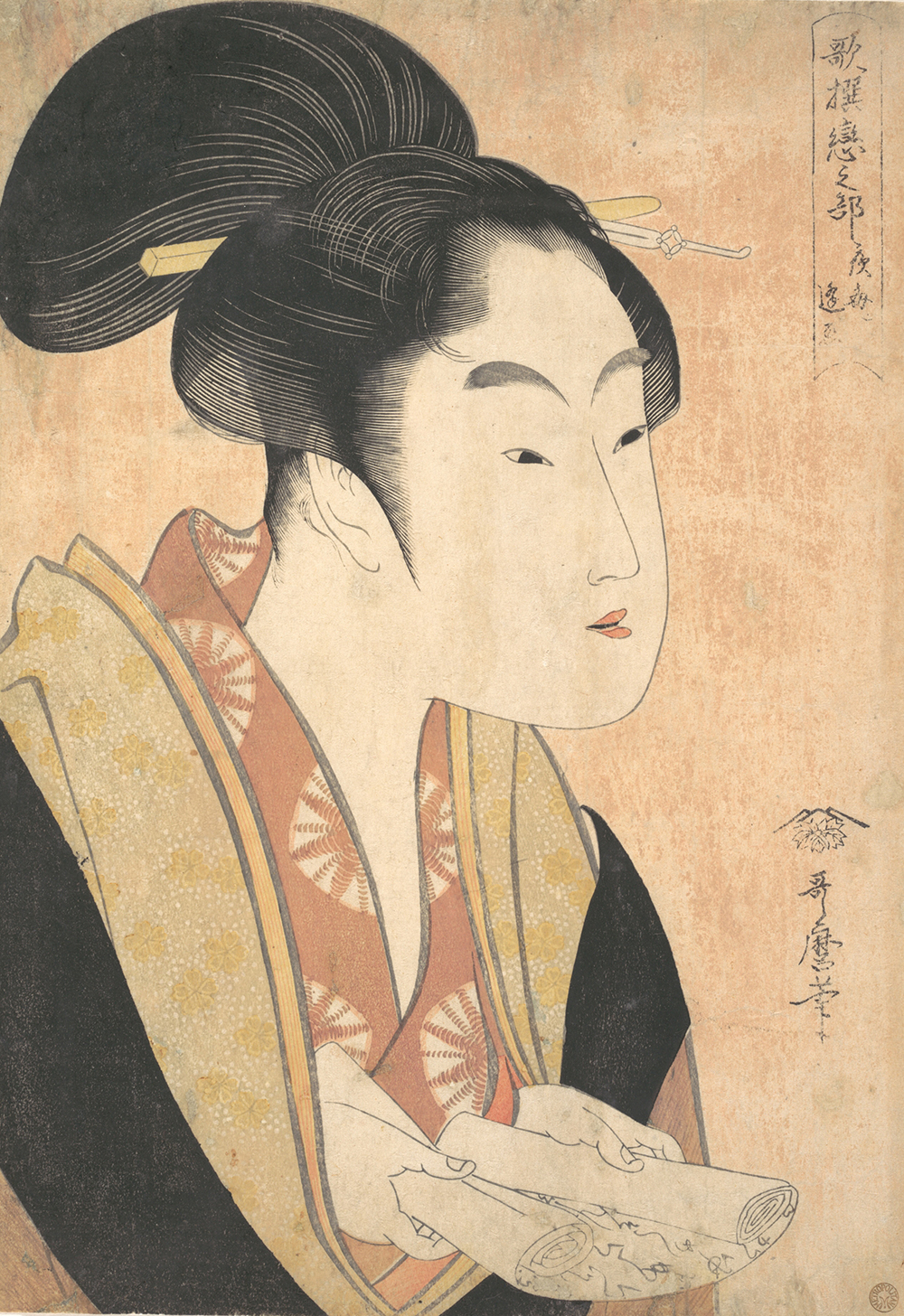 Many months had passed in lamenting the world, more shadowy than a dream. Already the tenth day of the Deutzia month was over. A deeper shade lay under the trees and the grass on the embankment was greener. These changes, unnoticed by any, seemed beautiful to her, and while musing upon them a man stepped lightly along behind the hedge. She was idly curious, but when he came toward her she recognized the page of the late prince. He came at a sorrowful moment, so she said, "Is your coming not long delayed?"
"Would it not have been presuming?—Forgive me—in mountain temples have been worshipping. To be without ties is sad, so wishing to take service again I went to Prince Atsumichi."
"Excellent! That prince is very elegant and is known to me. He cannot be as of yore [i.e., unmarried]?" So she said, and he replied, "No, but he is very gracious. He asked me whether I ever visit you nowadays—'Yes, I do,' said I. Then, breaking off this branch of tachibana flowers, His Highness replied, 'Give this to her, see how she will take it.' The prince had in mind the old poem: 'The scent of tachibana flowers in May / Recalls the perfumed sleeves of him who is no longer here.' So I have come—what shall I say to him?"
It was embarrassing to return an oral message through the page, and the prince had not written; discontented, yet wishing to make some response, she wrote a poem and gave it to the page:
That scent, indeed, brings memories
But rather, to be reminded of that other,
Would hear the cuckoo's voice.
The prince was on the veranda of his palace, and as the page approached him, he led him into an inner room saying, "What is it?" The page presented the poem.
The prince read it and wrote this answer:
The cuckoo sings on the same branch
With voice unchanged,
That shall you know.
His Highness gave this to the page and walked away, saying, "Tell it to no one, I might be thought amorous." The page brought the poem to the lady. Lovely it was, but it seemed wiser not to write too often.
On the day following his first letter this poem was sent:
To you I betrayed my heart—
Alas! Confessing
Brings deeper grief,
Lamenting days.
Feeling rootless, but being unlearned in loneliness and attracted, she wrote an answer:
If you lament today
At this moment your heart
May feel for mine—
For in sorrow
Months and days have worn away.
He wrote often and she answered—sometimes—and felt her loneliness a little assuaged. Again she received a letter. After expressing feelings of great delicacy:
I would solace you with consoling words
If spoken in vain
No longer could be exchanged.

To talk with you about the departed one; how would it be for you to come in the evening unobtrusively?
Her answer:
As I hear of comfort I wish to talk with you, but being an uprooted person there is no hope of my standing upright. I am footless, meaning, I cannot go to you.
Thus she wrote, and His Highness decided to come as a private person.
It was still daylight, and he secretly called his servant Ukon-no-zo, who had usually been the medium by which the letters had reached the prince, and said, "I am going somewhere." The man understood and made preparations.
His Highness came in a humble palanquin and made his page announce him. It was embarrassing. She did not know what to do; she could not pretend to be absent after having written him an answer that very day. It seemed too heartless to make him go back at once without entering. Thinking "I will only talk to him," she placed a cushion by the west door on the veranda and invited the prince there. Was it because he was so much admired by the world that he seemed to her unusually fascinating? But this only increased her caution. While they were talking the moon shone out and it became uncomfortably bright.
He: "As I have been out of society and living in the shade, I am not used to such a bright place as this"—It was too embarrassing!—"Let me come in where you are sitting; I will not be rude as others are. You are not one to receive me often, are you?"
"No indeed! What a strange idea! Only tonight we shall talk together I think; never again!"
Thus lightly talking, the night advanced. "Shall we spend the night in this way?" he asked:
The night passes,
We dream no faintest dream—
What shall remain to me of this summer night?
She:
Thinking of the world
Sleeves wet with tears are my bedfellows.
Calmly to dream sweet dreams—
There is no night for that.
He: "I am not a person who can leave my house easily. You may think me rude, but my feeling for you grows ardent." And he crept into the room. Felt horribly embarrassed but conversed together and at daybreak he returned.
Next day's letter:
In what way are you thinking about me? I feel anxiety—

To you it may be a commonplace to speak of love,
But my feeling this morning—
⁠To nothing can it be compared!
She answered:
Whether commonplace or not—
Thoughts do not dwell upon it
⁠For the first time I am caught in the toils.
O what a person! What has she done! So tenderly the late prince spoke to her! She felt regret and her mind was not tranquil. Just then the page came. Awaited a letter, but there was none. It disappointed her, how much in love! When the page returned, a letter was given.
The letter:
Were my heart permitted even to feel the pain of waiting!
It may be to wait is lesser pain—
Tonight—not even to wait for—
The prince read it and felt deep pity, yet there must be reserve. His affection for his princess is unusually light, but he may be thinking it would seem odd to leave home every night. Perhaps he will reserve himself until the mourning for the late prince is over; it is a sign that his love is not deep. An answer came after nightfall.
Had she said she was waiting for me with all her heart,
Without rest toward the house of my beloved
Should I have been impelled!

When I think how lightly you may regard me!
Her answer:
Why should I think lightly of you?

I am a drop of dew
Hanging from a leaf
Yet I am not unrestful
For on this branch I seem to have existed
From before the birth of the world.

Please think of me as like the unstable dew which cannot even remain unless the leaf supports it.
His Highness received this letter. He wanted to come, but days passed without realizing his wish. On the moon-hidden day, last day of month, she wrote:
If today passes
Your muffled voice of April, O cuckoo
When can I hear?
She sent this poem, but as the prince had many callers it could only reach him the next morning.
His answer:
The cuckoo's song in spring is full of pain.
Listen and you will hear his song of summer
Full-throated from today.
Read the other entries in this series: Charles Dudley Warner, I.A.R. Wylie, Jennie Carter, Virginia Woolf, Fyodor Dostoevsky, Willa Cather, Thomas Jefferson, Fridtjof Nansen, and Elizabeth Robins Pennell.