Hospitality bosses didn't have a great bank holiday. Not only was the weather rather grim at times, but they also lost a legal bid to force the government to reopen indoor dining in England faster.
The High Court ruled in favour of the government after a case was brought by Punch Taverns founder Hugh Osmond, and Sacha Lord, the night-time economy adviser for Greater Manchester.
A high court judge dismissed the attempt to bring forward indoor reopenings as "academic" because the hearing would be unlikely to take place before 17 May, when pubs and restaurants in England could welcome customers inside.
Lord says he's disappointed by the ruling - and points out that the wet and windy weather was a blow to hospitality firms trying to serve customers outside.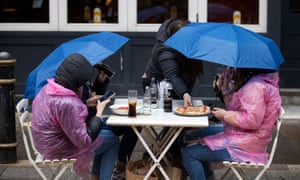 He says:
"There are thousands of bars, pubs and restaurants across the country which are still closed and whose owners and employees are struggling financially due to these unfair restrictions.

"For the 40% minority who do have outdoor space, this weekend's weather has only exacerbated the ongoing struggles the industry has continually faced, and I've heard of countless pubs that have been forced to close early or who have had zero customers due to the bad weather. Not only does this severely impact on business and sector recovery, but on the staff whose wages, and ability to pay rent, food and bills, are at the mercy of something as unpredictable as the weather."
Updated
Frasers Group starts £60m share buyback
Sports Direct owner Frasers Group is also in the risers, up almost 2%, after announcing a new £60m share buyback programme.
The purpose of the programme, which starts today is to "reduce the share capital of the Company", it says.
The company is also in talks with tax authorities in the European Union that could lead to settlements related to a controversial deal between billionaire founder Mike Ashley (who owns 63.5% of its shares) and his brother.
My colleague Rob Davies explained yesterday:
Documents filed at the high court reveal that Sports Direct, since renamed Frasers Group, came under scrutiny in Ireland, France and Finland, over an arrangement that involved it paying VAT in the UK on all of its sales to customers overseas over a seven-year period.

The plan involved setting up a separate company called Barlin Delivery, which had no drivers or trucks and was run by Ashley's computer scientist brother John, to deliver orders abroad.

The arrangement has already been the subject of a bruising investor revolt, after shareholders balked at Sports Direct's plan to pay John Ashley £11m for his services.

But court papers suggest it also prompted scrutiny from European tax authorities, amid concern that the arrangement may have led to them missing out on VAT payment.
FTSE open: Travel shares rally on holiday hopes
In the City, the blue-chip FTSE 100 index has jumped around 0.85% in early trading, with travel companies among the risers.
The FTSE 100 gained around 60 points at the open to reach 7030 points, as traders returned to their desks after the Bank Holiday weekend. That's close to the pandemic highs hit last month.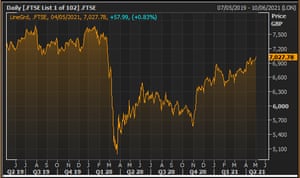 Optimism about economic reopening plans seem to be lifting the market.
Airline group IAG, which owns British Airways, is the top riser, up 3.8%, while holiday firm TUI has jumped 5.4% (to the top of the smaller FTSE 250 index). Budget airline easyJet has gained 3.5%.
Whitbread, which hotels in the UK (Premier Inn) and in Germany has gained 2.4%.
Yesterday, the EU said it would reopen to holidaymakers from countries with low Covid infection rates, such as the UK, and to anyone who has been fully vaccinated, by the start of June - in a bid to restart its tourism industry.

However, it's understood the UK could give the green light to travel to fewer than 10 countries (without needing to quarantine on your return).
Commercial property firms British Land (+3.5%) and Land Securities (+3%) are also in the risers, which also suggesting optimism about the economic reopening.
But online grocer Ocado (-1%), takeaway group Just Eat (-1.4%), and software developer Aveva (-1.3%) are among the fallers, with tech stocks out of favour this morning.
Richard Hunter, head of markets at interactive investor, explains:
"With most major economies in the midst of a slow grind towards normality, markets continue to search for beneficiaries of the recovery.

In the US, there is further evidence of the "reopening" trade, with investors anticipating stocks and sectors likely to benefit from the return to some kind of normality. This in turn has applied some pressure on tech stocks, despite their largely upbeat earnings numbers, where valuations are coming under increasing scrutiny as the scale of their recent pandemic success comes into question as lockdowns subside.
German carmakers struggle to get hold of parts
German carmakers are also being hit by supply problems - particularly for semiconductors.
The IFO institute reports that conditions improved across Germany's Automotive Industry, sending its gauge of business conditions to a two-year high.
Klaus Wohlrabe, Head of Surveys at ifo, declared that:
"Carmakers have now overcome the slump they suffered due to the coronavirus"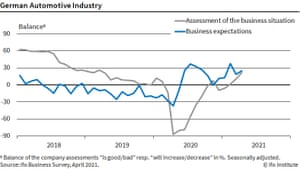 But while under 14% carmakers said lack of demand was a problem, more than half said the struggle to get hold of parts was leading to production restrictions.
IFO explains:
At the moment, the main issue is problems with intermediate products, which were reported by 60.4 percent of the companies.

That figure compares to only 5.8 percent in July 2020; back in April 2020, it was as high as 42.0 percent. Several automotive plants have now announced they will introduce short-time work due to the shortage in silicon chips.

UK car factories have the same problem, of course, with both Jaguar Land Rover and Mini having to pause production last month.
Overnight, lumber prices hit a new record high, highlighting the squeeze on raw materials.
The spiraling demand for lumber - notably in the US - means a hefty bill for new home builders (as most new-build homes in America are wood framed). Ditto for those extending their homes, or even doing DIY jobs .
But it's a boost for saw mill companies, who are raking in the profits, as supply simply can't react fast enough to the economic rebound.
As the Wall Street Journal explains:
They are feasting on a glut of cheap pine trees in the U.S. South while their finished products like lumber and plywood are flying off hardware-store shelves and being bid up by home builders.


Lumber futures delivery later this month ended Monday at $1,575.60 per thousand board feet, a record and more than four times the typical price this time of year. Futures rose by the daily maximum allowed by the Chicago Mercantile Exchange during nine of April's 21 trading sessions.
The FT flagged up last month that tariffs on Canadian lumber are another factor, as is a mountain pine beetle that has devastated forests in British Columbis.
Introduction: Supply chain woes weigh on factories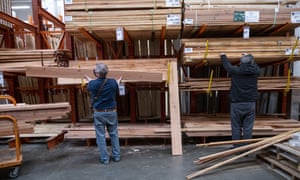 Good morning, and welcome to our rolling coverage of the world economy, the financial markets, the eurozone and business.
In normal times, too much demand is a nice challenge to deal with. But right now, supply chain bottlenecks are causing increasing problems for factories as the world economy recovers from the economic shock of the pandemic.
Shortages of everything from lumber to semiconductors is hitting manufacturers, and the situation seems to be getting worse amid rising demand.
Yesterday, the latest PMI survey from the US Institute for Supply Management (ISM) showed that these shortages were hitting growth, with factory activity rising at a slower pace in April. The ISM's index of national factory activity fell to 60.7, from a 37-year high of 64.7 in March. That still showed decent growth, but weaker than expected.
The slowdown came because manufacturers are finding it hard to meet orders, as fiscal stimulus and vaccine rollouts in the US spur demand.
As Timothy Fiore, chair of the ISM's manufacturing business survey committee, explained:
[Purchasing managers] "reported that their companies and suppliers continue to struggle to meet increasing rates of demand due to coronavirus impacts limiting availability of parts and material."
Michael Pearce of Capital Economics says this squeeze is affecting almost every sector:

"What really stands out in the April report is just how broad the squeeze in supply of key commodities and intermediate inputs has become, with respondents' comments suggesting supply shortages are affecting almost every industry.

That is reflected in the supplier deliveries time balance which, though it fell to 75.0 last month from 76.6, remains unusually elevated."
This surge of demand has driven the Baltic Dry Index - which tracks the cost of moving raw materials - to its highest in over a decade last week.

The latest PMI survey of UK manufacturers, due this morning, will highlight how supply chains here are coping -- as will new US factory order figures this afternoon.
Plus, the latest Bank of England mortgage data will probably show how the housing market remained strong in March.

The agenda
9.30am BST: UK manufacturing PMI for April

9.30am BST: Bank of England consumer credit figures for March.
9.30am BST: UK mortgage approvals and lending for March
1.30pm BST: US balance of trade for March
3pm BST: US factory orders for March