While Democrats are expected to fail again in their effort to pass voting rights legislation, a group of bipartisan senators is working on a more narrow bill to help improve US elections.
The senators' work involves the 1887 Electoral Count Act, an obscure law that dictates how presidential election results are certified by Congress.
Donald Trump tried to use the law to pressure Mike Pence to overturn Joe Biden's victory in the 2020 race, and the certification process was ultimately disrupted by the Capitol insurrection.
Axios reports:
The idea of targeting the 1887 Electoral Count Act for repairs has now garnered support from some of Congress' most conservative members, as well as leading House Democrats. It may be the best chance of passing any form of election reform in an otherwise divided Congress. ...

A bipartisan group of senators working on a proposal that can pass the Senate has nearly doubled in size, Sen. Mitt Romney (R-Utah), an original member of the group, said Sunday. ...

Most reformists agree on two core changes: raising the threshold for objections beyond just a single senator and representative, and clarifying the role of the vice president as merely ceremonial.
While many Democrats support changing the 1887 law, they also believe the proposal is not enough to address the sweep of voting restrictions passed by state legislatures since the 2020 election.
However, if Democrats once again fail to pass their own voting rights bill, they may be more open to the bipartisan group's suggestions.
Maya Yang
Vice-president Kamala Harris on Monday warned that the right to vote in America was "under assault" and tens of millions of Americans faced potential disenfranchisement unless threatened voting rights legislation was passed by US lawmakers.
The speech was given on the Martin Luther King day public holiday and comes as King's family and other civil rights activists in America are pushing for expanded federal voting rights legislation despite political opposition from Republicans.
Activists want politicians to pass two measures aimed at expanding voting rights across the country – the Freedom to Vote Act and the John R Lewis Voting Rights Advancement Act.
Passing voting rights legislation is seen as crucial in the face of a wave of Republican state legislation that is aimed at erecting barriers to voting that is likely to suppress the votes of communities of color.
Harris delivered strong words – though no new concrete plan of action – regarding fighting off a wave of Republican-led voting rights suppression.
She said: "Our freedom to vote is under assault," adding that "voter suppression laws can make it more difficult to vote for as many as 55 million Americans, or one out of six people in the country".
Senate to take up doomed voting rights bill
Greetings, live blog readers.
The Senate is expected to take up Democrats' voting rights bill this week, after the legislation passed the House in a party-line vote last week.
However, as of now, there is still no indication that Senate Democrats will be able to change filibuster rules and get the bill passed.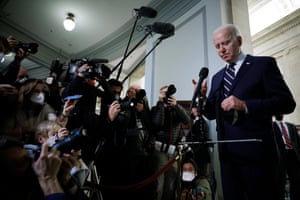 Senators Joe Manchin and Kyrsten Sinema made clear last week that they will not support changing the filibuster, which Republicans have repeatedly used to block voting rights bills.
Joe Biden traveled to Capitol Hill last week to try to convince the holdout senators to support rule changes, but his argument was apparently not enough to convince Manchin and Sinema.
With the filibuster in place, Democrats need 60 votes to get the voting rights bill passed, and that hurdle is virtually insurmountable in a 50-50 Senate.
So unless Manchin and Sinema change their minds, which seems highly unlikely, Democrats are poised to take up a voting rights bill that is doomed to fail.
The blog will have more coming up, so stay tuned.