Joe Biden held a meeting with Joe Manchin and Kyrsten Sinema at the White House last night for another discussion on filibuster reform and voting rights.
The White House described the three Democrats' conversation as "a candid and respectful exchange of views about voting rights".
Both Biden and Senate majority leader Chuck Schumer will likely still try to sway Manchin and Sinema on changing the filibuster, in the hopes of getting a voting rights bill passed before the midterms.
But Manchin and Sinema have sounded quite adamant that they will not support rule changes to get a voting rights bill passed, so Biden and Schumer will have their work cut out for them.
Sam Levine
Kyrsten Sinema took to the Senate floor yesterday opposing any changes to the filibuster, the Senate rule that requires 60 votes to advance legislation, while Democrats currently hold a bare majority in the 100-seat chamber and two voting rights bills are stalled.
"While I continue to support these [voting rights] bills, I will not support separate actions that worsen the underlying disease of division infecting our country," she said.
She added: "We must address the disease itself, the disease of division, to protect our democracy, and it cannot be achieved by one party alone. It cannot be achieved solely by the federal government. The response requires something greater and, yes, more difficult than what the Senate is discussing today."
Sinema's speech came at an extremely perilous moment for US democracy. Republican lawmakers in 19 states have enacted 34 new laws, according to the Brennan Center for Justice, that impose new voting restrictions.
They have also passed a slew of bills that seek to inject more partisan control into election administration and the counting of votes, an unprecedented trend experts are deeply concerned about and call election subversion.
Many of those measures have been passed in state legislatures on simple majority, party-line votes.
Biden to tout infrastructure law after major defeat on voting rights
Greetings from Washington, live blog readers.
Joe Biden is scheduled to deliver a speech this afternoon on the bipartisan infrastructure law, which he signed in November.
The remarks will focus on how the law "will rebuild America's bridges, which are critical for getting to school and work, moving commerce, and connecting communities," according to the White House.
The speech comes one day after Biden was dealt a major defeat by two members of his own party in the debate over voting rights and filibuster reform.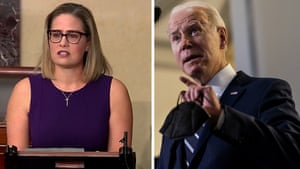 Senators Kyrsten Sinema and Joe Manchin made it clear yesterday that they will not support changing the filibuster, leaving Democrats with no path for passing a voting rights bill.
Simultaneously, Biden's Build Back Better bill has also stalled in the Senate due to Manchin's objections to the $1.75tn spending package.
So, as Biden touts the infrastructure law today, keep in mind that it may be his last significant legislative accomplishment for the time being.
The blog will have more coming up, so stay tuned.